Making Japanese style bento boxes is all the rage these days. Moms want to introduce better nutrition and maybe a little foreign culture to their kids, but don't have a lot of time. Here is a round-up of 10 simple bento box tricks and tips that will make your bento lunch look an taste better. Great tips for beginners!
The food ratio in Japanese bento boxes reflects a well-balanced diet. Follow these general guidelines for a more nutritious bento lunch;
50% rice or carbohydrates
about 25% vegetable dishes
about 25% meat, fish, or egg
5-10% fruit dessert(optional)
Making these sausage octopuses is very common in Japan. Cut the bottom of a sausage lengthwise into several sections and fry. Add little cheese and nori seaweed eyes. So cute.
Use a boiled quail egg, a cherry tomato and cucumber slice, some nori face details, and a food pick to make this cute egghead.
4. Nori Seaweed Punches
Sheets of nori seaweed are a bento Mom's best friend. There are a lot of nori punches available that make face making much easier and your bentos look more professional.
Instead of using plastic dividers or cups, use fresh lettuce leaves to divide food. It's more eco-friendly, looks better, and sneaks in a few extra veggies.
I laughed out loud when I saw this. Use two rice grains and three black sesame seeds to make a cute little face on an umeboshi, sour pickled plum. I think it would work just as well with a cherry tomato.
One of the easiest ways to decorate the bento rice is by cutting out a design from sliced ham or cheese. You can make pigs, animals, cars, airplanes, even the snow capped peak of Mt. Fuji. Let your imagination and creativity go.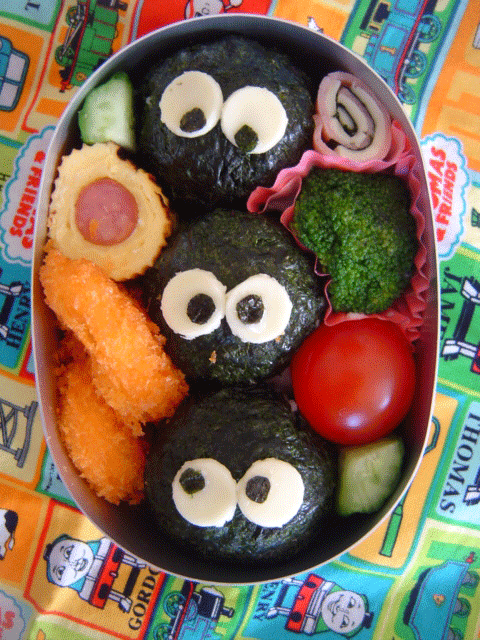 These are the "Makuro-kurosuke"(dust-ball ghosts) from the animated film Tottoro. Just nori covered riceballs with cheese/nori eyes. Make a cute face in no time at all.
I love this. Cover a few rice balls in katsuo-bushi(bonito fish flakes). Make a fuzzy bear that tastes great, too.
All it takes is rice, nori, and maybe a couple of black beans to make an easy panda rice ball for your kids.